Where it all began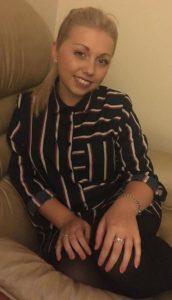 The 6 year struggle went in my daily stride, awful headaches causing many sleepless nights, drinking 8 litres daily to just scrap my thirst needs, no growth, eye-sight loss, becoming incontinent, fainting, sickness and many many more symptoms lead to my diagnosis of 15cm Craniopharyngioma Brain Tumour! 6 years too late if you ask me.
My Tumour in simple English terms was thought to have started to form when I was being produced. A build up of cells when forming the roof of my mouth onto the back of my eyes never died off and continued to produce fatty tissue which has now caused my Brain Tumour.
Throughout my blog will be named 'Gemima' this name I came up with during my month stay in hospital after surgery. The thought of my tumour being formed at the same time as me, so being born also on June 19th ( my birthday ) I felt was also the same horoscope 'Gemini' so Gemima is my Brain tumours name as its similar to the name 'Gemini'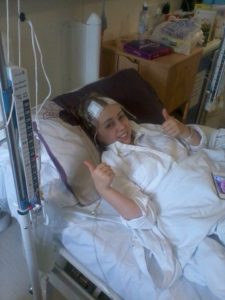 So it came across on the 21st May 2015 my opticians finally and luckily transferred me to the emergency hospital eye clinic where my mum broke down saving my life..
Within 10 minutes of the specialist Doctor seeing my mum in such a sad state I was having a CT scan which then rapidly I was having an MRI scan.
Before I know it I was told the devastating news.
On the 22nd May 2015 (morning after) I was in my first operation which was to release the fluid on my brain which was left draining through two drains coming out from the top of my head for a week.
28th May 2015 wa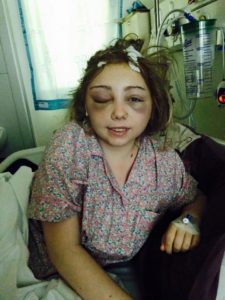 s my second operation a Craniotomy to remove as much tumour as possible without causing any life threating damage to myself.
Unfortunately where Gemima is situated they have had to leave a mass of a 4cm tumour, which is nothing before surgery she was 15cms!!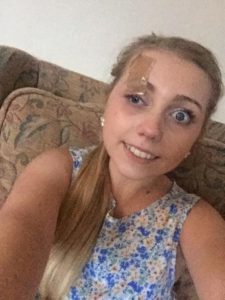 I recovered well with slight problems and swelling. Oh and with one eye, but I soon sorted that when I was told it will never open.
With some determination I used masking tape daily to cellotape the eyelid and try to get my muscle working again.. IT WORKED!
GIVE KIDS THE WORLD VILLAGE FLORIDA. During my Radiation Vacation I was ever so lucky to be able to experience this incredible place. "Give Kids The World Village is a 79-acre, nonprofit "storybook" resort in Central Florida. Here, children with life-threatening illnesses and their families are treated to weeklong, cost-free vacations" Although I was unable […]

Read More »
---