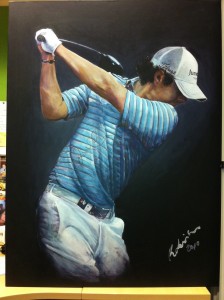 As you will see on previous posts, In december 2010 I purchased a Painting Rory Mcilroy on the 18th green at the RACE TO DUBAI GOLF CHAMPIONSHIPS for our Charity,
My intention from the start was to get Rory to sign it for me as I was sure that 1 day Rory would be the worlds #1 golfer!!!!!
well I didnt think this would all happen so quickly!
In may last year you will see on a previous posts I travelled to Wentworth to meet Rory and get his signature on the attached painting, PART 1 ACCOMPLISHED!!!!!
Then on Sunday 4th March 2012 in Florida at the Honda Golf Championships Rory held off a late challenge from The Great Tiger Woods to become not only the Honda golf Champion BUT also the worlds #1 golfer!!!!!
All I have do do know is find a buyer for the painting!!!!!!!
can you believe that the top 4 standings in the world of golf are all European tour players!!!! not an american in sight (at the moment)
Thanks for taking the time to read this and hope you continue to read all about what we do for our Charity
Regards
Craig