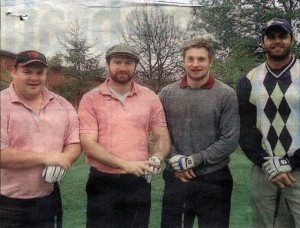 International rugby stars swapped oval balls for the golf ball to raise nearly £3,000 for the Children's Christmas Wish List charity.
Irish international Geordan Murphy was joined by fellow Leicester Tigers internationals to raise cash for the charity at Staverton Park Golf Club.
Other celebrities taking part were former British international athletes Eddie Wedderburn, the steeplechaser and high-jumper Geoff Parsons.
A total of £2,492 was raised after 44 players teed off.
Craig Collins, the charity's trustee, thanked all involved for making it a successful day and plans another celebrity golf day soon.
If you want any further information you can contact Craig on 024 7636 5001 or 07798 564941