What a Trek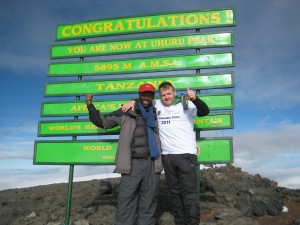 !!!!!!!!!
The months of Training, Fundraising have all paid off!!!!!!
Finally set off to climb Kilimanjaro on 1st December and what a trek, the crew and all the other team members were up for it as we mat at Heathrow!!
we were about to board the Ethiopian airlines flight to Kilimanjaro via Addis Ababa, it was a good flight and within the hour yes i was asleep, could have something to do with no sleep night before!!!
when we arrived in Kilimanjaro we were transferred to the Snow Crest Hotel for our last night of Comfort & CLENLINESS!!!
The next morning;
DAY 1;
we were up, had breakfast, and our bags were loaded onto the bus and we set off towards The Mountain!!! the entrance known as the Gate is actually 1800m above sea level and this is it we have arrived!
we were all very excited to see it more than anything but cloud cover was to keep it hidden away from us, when we arrived we checked in with the Rangers and met up with the guides & porters who are absolute Hero's as you will find out more as we go on!!!
we set off approx 11am for what was a steady trek to 1st base camp (Machame camp) which was a trek through the rain forest to get to camp at 3100m, it was hot and if you have seen any piccys you will see that the sweat was poring from us, our guides had steamed in front and when we arrived the tents were all set up ready for us, Amazing to see and see what i mean about hero's
Dinner 1st day; soup & bread & Butter, then Pasta with vegetables & sauce, ate some but had plenty of chocs in my bag so made sure I ate well when I got back to tent,
sleeping bags out and was in bed by 8.30pm
Day 2;
up at 7am, porridge and toast for Breakfast along with 2 x cups of MILO (HOT CHOCOLATE!!)
started trekking at 8.30am towards (Shira Caves Camp) which is at 3840m which took us approx 6 hours, again steady trek with a little hands on climbing and you can really notice the drop in temperature as you get that little bit higher, My tent partner Shah was really ill from the moment we left the hotel with a bug and by the time we got to Shira caves he was in a real bad way, couldn't keep any food or fluids inside and he was physically drained, he slept till the next morning (snoring very well!!!)
Day 3;
up at 6am and Shah wasn't feeling any better and again didn't manage to keep any fluids / food inside, Doc Siobhan and the trek leaders advised him to think of his health and Shah had to descend that morning, we were all disappointed for him but then realised that his health was more important than the climb, (plus the fact he was going back to the hotel for a shower and a comfy bed to recover) we then set of to tackle the Barranco Wall which was amazing!!! proper cliff edge climbing, hanging on to take each step 1 by 1, loved it what a buzz!!! we had to cross a couple of small streams which as it was raining where very slippy either side and yes you guessed it Craigo slipped and ended up in the water, not to wet but wet enough when you consider that the temperature is still dropping as we climb higher & higher
we make it to Barranco camp which is 3900m, YES 3900m we had been trekking for 7 – 8 hrs and only to gain only 60m, this is as we actually went up to 4500m and then had to head down again to Barranco Camp as this was to help us acclimatise to the altitude,  we all seemed OK with it and had the usual soup, pasta & sauce for dinner when we arrived, not to forget the  MILO either YUM!!! I was in bed at 8am listening to ipod and woke at 6am the next morning, still in my clothes from the day before!!
Day 4; oh yes & Day 5,
Again 6am wake up call from guides on what turned out to be the day to test any human, no matter how fit!!! had porridge  / toast & MILO and headed out for a 9 hr trek to Barafu camp, long hard slog with amazing scenery, way above the clouds all the way, we finally made it to Barafu camp at 4pm, this is where we all hit a wall!!!
had dinner at 5pm; soup /Pasta Bolognese & Milo
in bed at 6pm listening to ipod again, well knackered at this point
THEN AT 11PM THAT NIGHT; we are woken up to get ready for the ultimate challenge;
Milo & biscuits whilst preparing for the summit
midnight arrives and were ready to challenge the Mountain we had all decided we would challenge for Charity!!!
we had a number of guys feeling sick and tired and some had to make the call that they didnt have enough energy due to lack of sleep, puking, and general exhaustion to commence to the Summit,
we set off with our trek poles and headlamps, the excitement was very short as once we started out it was freezing cold, snow under foot when you look up all you can see for what seems like miles is headlamps and you have to keep grinding away up that mountain, 6 hrs in and we were all feeling the exhaustion, sick, just physically drained, emotions started to kickin and 2 hrs from the summit, still dark i asked my Guide Paul how much longer as i am done!!! He said think of the kiddies you have raised all the money for!!! it was at that point the tears started to freeze on my cheeks and we trekked on!
2 hrs later we had witnessed sunset to die for,and Stella point was in sight! once we made it to Stella point the back packs hit the floor,Mine with me still attached to it, just absolutely knackered, our drinking water in our palatapus's all frozen, we had a few pictures at Stella and then came the news that there was approx 45 Min's trekking left to get to the Summit!! well my heart missed a few beats i can tell you!!!
i was told you cannot come this far and give up!! hard to take in when your exhausted i can tell you but fair play to John Milford & Robert Shepherd who stuck with me to the summit,finally arrived after puking 4 times on route but what a feeling when you park your ares on the concrete base at the top of Mount Kilimanjaro, i can assure you that i haven't cried so much since my Daughter Maddy was born 11yrs ago,
The worst thing then hit us all; WE HAD MADE IT TO THE TOP!!!
BUT WE HAD TO CLIMB BACK DOWN AGAIN, YES ANOTHER 4 1/2 HRS ON OUR FEET
We had a few fallers me included as we started our descent and then allof a sudden a hail storm started which was so painfull as they bounced of our frozen cheeks but we battled on back to our sleeping bags for 2 hrs sleep,
YES 2 HRS SLEEP!!! As we had to pack up and move from Barafu Camp at 4600m to Millennium Camp at 3000m which was just another 3hr trek, so other trekkers could camp at Barafu Camp ready to summit that night (if only they know hey!!!)
We had dinner and were all in bed very early that night, didn't take much rocking that's for sure!!!!
Day 6;
up for breakfast after the best night sleep in weeks,porridge,toast and last few cups of Milo and were were heading to the Mweke gate to exit Mount Kilimanjaro, just a small 6 hrs trek, Jesus it was like taking the dog for a walk in the local park, heading back down through the Rain Forest and seeing some wildlife! stopped at a small cabin and had a Full Fat Coca cola, Bliss!!!
eventually we get to the Mweke Gate and other who unfortunately didn't make it were there to greet us and it was Shah's Birthday so we all started to shout / sing Happy birthday to him!!! we chucked our bags on the floor, hugged / kissed everybody around us and had 2 bottles of Kilimanjaro Beer, WOW, Straight to the head, we were all overjoyed that we had cracked the challenge we had set ourselves, we then went to a marquee which was set up fro a BBQ meal which was awesome food, and yep you guessed it more Kilimanjaro beers!! after the feed we boarded the bus back to the hotel!!
Back at the hotel we all had showers which where delightful but as in every adventure there was a power cut so it ended up being a cold shower in the pitch black as there weren't any windows in the bathrooms, hey glad of water either hot or cold after 6 days of no real washing!!!!
Hotels Evening celebration;
Skyline had arranged a BBQ meal which was amazing,yep you guessed it more Kilimanjaro beers and before you knew it we were on our way to a Tanzanian Night Club!!! what a night,think the bus collected us from the club at 3am, what a state we were all in,
Vicky's illness;
when we got back to the hotel from the club Vicky who wasn't able to come to the club as she wasn't to well that evening was actually waiting to be airlifted to Nairobi as she had actually got HACE (HIGH ALTITUDE CEREBRAL EDEMA), she wasn't well at all, the next morning we had breakfast and all that was being discussed was how Vicky was as she along with Rach & Berni were meant to be flying onto Zanzibar for a few days R&R
Meanwhile we boarded the bus the Kilimanjaro Airport to head home, arriving in  Addis Ababa with a 6 hr transfer we sat at the bar and slowly topped up the alcohol levels from the night before!!!
we finally boarded the flight to Heathrow and withing 30mins I can safely say I was out for the count until the stewardess woke me for a strong coffee and a piece of stale cake about 1 hour before we were due to land.
well that's about sums up our trek and would ike to THANK All the people / companies who sponsored me for the trek and help me to raise £9000,after paying skyline for the trek the charity will get approx £7000 for 2011 Christmas wish list
Thanks again for all your support and watch out for the post after the charity Christmas dinner at the Royal Court Hotel on Saturday 17th December
Regards & Thanks Again
Craig Collins