This Wish came about via a Facebook Post by a Lady called Jules Griffiths who was organizing a Local DIY SOS in Rugby for 12 yr old Tommy Lloyd
Tommy has a Very Rare form of Muscular Dystrophy and although he is able to walk some distances he is unable to climb stairs,
A lift was installed which takes Tommy from his Dining Room directly up into his bedroom, Its actually Life Changing for Tommy to be able to simply open the door press the button & before you know it he's in his bedroom,
Other jobs completed were a newly fitted out Wet Room & total redecoration of the house with new carpets throughout,
The Local Support was Fantastic
We heard Tommy was an Arsenal Fanatic so we asked a few questions to a few people & a Very Kind Gent called Nick Hayden managed to source VIP Tickets to the Opening Home Game of the 2017 – 18 season against Leicester City FC & as if the tickets weren't enough he also managed to get from the PFA, A signed David Beckham Manchester Utd shirt from the PFA Awards Ceremony in March 2017
What Kid doesn't Like David Beckham!
On Match Day I picked up Tommy, Hayley & Dean and we set off to The Emirates Stadium, now I had been emailing with 2 Very Special Ladies in the days up to the Game who certainly need a mention, They are Carol from The PFA & Stacey from Arsenal FC, What they had arranged between them was Priceless, Money cannot buy the Experience Tommy & Family were about to be treated to!
We arrived at the Media Entrance where I actually spotted Jermain Jenas & Many other Well Known Stars from the World of Football, Jermain was actually a commentator for the game on 5 live that evening
So Tommy & Family meet up with Stacey at the Media Entrance & this is when the Real Experience started, They were taken to there seats in the Platinum Lounge, then were escorted to see the Team off the Coach under the stadium, on Route they bump into Arsenal Legend Mr Ian Wright & of course he is more than happy to have his Picture with Tommy,
The Coach pulls up & Tommy's Favourite Player Mesut Ozil get of & give him a Thumbs up!
The Experience continues as they go back to the table for Dinner, Fantastic Food and then they get asked to take there seats in the stand,
The 1st half was Fantastic and Arsenal manage to pull the game back to 2-2 just before half time,
They go back to the table for more refreshments & Stacey arrives at Tommy's Table with a Gift, it was an Arsenal Back Pack, Well inside were some unbelievable Gifts! loads of small items of Arsenal Memorabilia, Match Day Programme & an Mesut Ozil Arsenal shirt which had been signed by the whole Squad! To say Tommy was speechless is an understatement!
The Shirt took pride of place on Tommy within Minutes!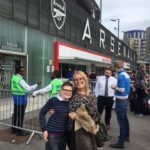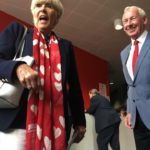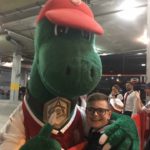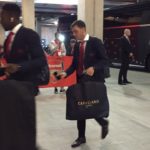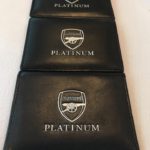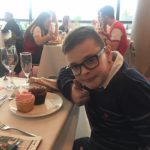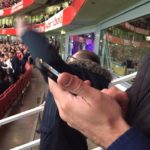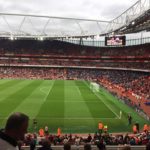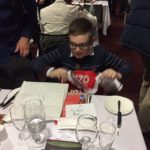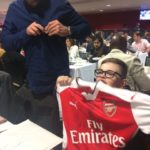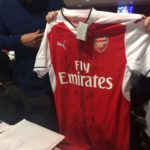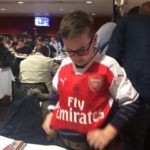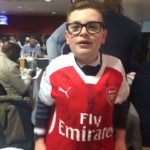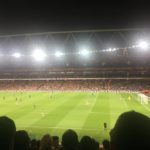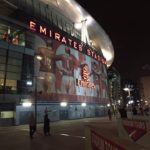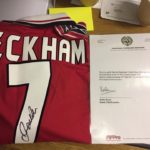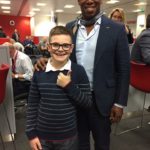 They then headed back out for the 2nd Half which was a great 45 mins
Arsenal actually went on to win the game 4-3 which meant Tommy was even happier after arsenal seemed to be behind for so long in the Game
After the game & back in the Platinum Suite they were joined by Arsenal Legend Bob Wilson who actually spent a lot of time talking to Hayley about his Charity "WILLOW" after losing his daughter Many years ago!
So that was it, Tommy's Wish Granted and the journey home in the car was so Pleasurable as they were all Hyper by the experience that Carol & Stacey had arranged for them
Thank you Again Nick, Carol & Stacey for your support to make this Wish So So Memorable
Have a look at some of the Photo's from the Evening & Thanks for taking the time to read this post
ALL the Team at Children' Christmas Wish List